We had an interesting but fairly straightforward job the other day. a client called to say that the curtain rods had fallen off and could w come and take a look. When we arrived at the job we saw that, yes indeed the curtain rods and curtain rod brackets had come away and was now lying on the floor, curtains attached! However on closer inspection we realised that the timber architrave had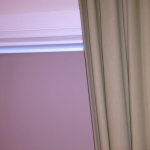 also come away from the wall. We have seen a few instances where curtain tracks have been attached to the timber architraves, which, themselves have not been securely attached to the brick wall, in this instance. The weight of a pair of full length curtains can be quite a few kilograms, so the curtain rod brackets need to be able to handle that weight and more.
In this instance is was found that the timber architrave at the top of the window had only been glues to the brick wall!
Architrave Repair Job
We set about drilling into the brick wall and installing some masonry plugs so we could firmly attach the architrave to the wall via substantial screws. This made the architrave very solid and we were then able to reattach the curtain rods securely onto the architrave. Job done!